When you're looking for a new dentist, it's important to ensure that he/she is committed to continuing his/her education in the dental field and staying abreast of new dental technology. Why? Because the more knowledgeable your dentist, the more efficient your treatments. Elmhurst dentist
Dr. Bill DeWitt
of DeWitt Dentistry is a member of 13 dental associations and has access to the latest research in dentistry.
Are They Part of the Dental Community?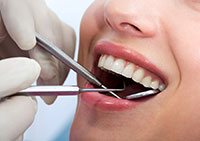 What does it mean to be a part of the dental community? The dental community is a network of dentists, educators and innovators that are highly interested in developing and learning about the up and coming technologies available in the dental field. This community includes everyone from experienced dentists and their students at dental schools to researchers in laboratories across the country.
Is Your Dentist Affiliated With Any Dental Associations?
Dental associations are professional groups that require their members to meet strict standards and guidelines. They act as advocates for both dentists and their patients. In addition to being an active member of the dental community at large in Elmhurst, Dr. DeWitt is a member of 13 dental associations, including:
These are the premier organizations that dentists look to for the latest scientific research in the dental field.
Advanced Care & Modern Dentistry with DeWitt Dentistry
There are a number of benefits to having a dentist who has so much access to new dental technology through colleagues, associations and research. For instance, Dr. DeWitt offers a number of new treatments, like dental implants, devices to fix snoring and invisible braces at his Elmhurst dental practice. We're confident that DeWitt Dentistry will be the right dental practice for you, if you need a new dentist, stop searching and call (630) 279-2121 today.