Dental Staff in Elmhurst, IL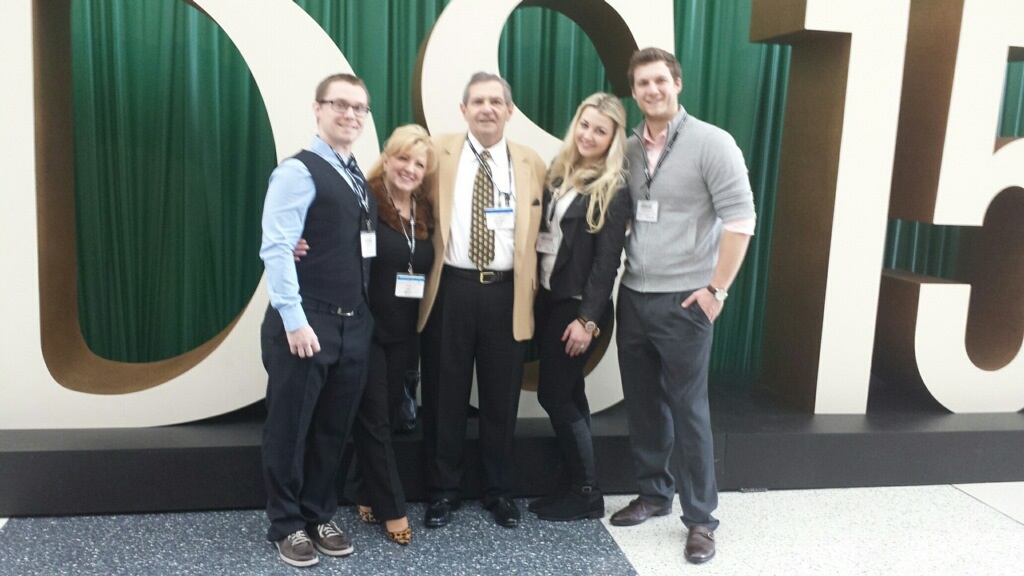 We would like to introduce you to our knowledgeable and compassionate staff. Each one of our dedicated team members is an expert in their individual field. Together, their collective goal is to ensure that your experience at DeWitt Dentistry surpasses the highest standards at every level.
William E. DeWitt DDS, FAGD
Elmhurst, IL Family Dentist
DeWitt Dentistry
Reaching out to help people began early for Dr. Bill DeWitt. After graduating from Northeastern University he taught biology while working towards his Masters in Special Education. Bill's desire to improve the quality of lives around him led him to Loyola University School of Dentistry, where he graduated with honors.
Post graduate education included a hospital internship working with plastic and oral surgeons. His focus was restoring form and function to physically and mentally challenged patients. Bill was honored to become a clinical professor of Endodontics at Loyola, contributing and co-authoring articles during his 17 years of teaching.
Dr. DeWitt is currently active senior staff at two dynamic West Suburban hospitals. These affiliations afford immediate access to both medicine and dentistry and the emerging science of oral and systemic health correlations.
Bill is well known for his personal energy along with his rapid, precisioned expertise. His proactive approach to every patient has earned recognition in several published "Best Dentists" lists.
Dr. DeWitt credits his patients with inspiring him towards more expansive solutions. His philosophy simply put, is this: "Excellence and artistry in dentistry is achieved by utilizing state of the art science and well practiced skill. But sometimes, the fulfillment of a patient's dream is the result of a patient's focused vision and the ingenuity it inspires."
R. Lee DeWitt (R.N., Office Administrator)
Lee was persuaded to leave intensive and specialty care nursing at Loyola University Hospital to join the dental health care team at DeWitt Dentistry, and has never looked back. Being used to acute care crises, Lee was not certain her background in nursing and pharmacy would be as valued in dentistry. However, along with an administrative and insurance oriented background, the emerging science of the oral/systemic health connection put her exactly in the right place at the right time.
"It is tremendously exciting to be an integral part of a preventive team. Dentistry is connecting the dots between excellent oral care and the prevention and control of serious conditions such as heart health, diabetes, and possibly, premature births."
Because Dr. DeWitt is on staff at two wonderful hospitals, Lee acts as medical/dental liaison as well as in office treatment coordinator for medically involved patients.
"DeWitt Dentistry is setting the standard for total patient well being and I'm extremely proud of being part of that dynamic well care approach."
Lisa (Registered Dental Hygienist)
Lisa received her dental hygiene degree from Prairie State College and has been practicing dental hygiene for over 28 years.  Lisa has been with our team for three years and we are very happy to have her with us.
Lisa loves the one on one interaction she is able to have with patients which allows her to establish a trusting relationship.  Lisa's warm and friendly attitude makes people feel at ease in her chair.  Lisa is a great educator and would be happy to answer and address any questions or concerns you may have regarding your oral health.
In her free time Lisa loves watching and participating in any type of sport…  She likes to play volleyball, golf, swim, run, and ski.  She frequently attends bears games and loves spending time with her friends and family.
Michele (Registered Dental Hygienist)
Michele graduated from Prairie State College and has been practicing dental hygiene for nearly 12 years. One of her favorite aspects of this career is educating patients on their oral health and preventative care. She excels in making her patients feel comfortable in the operatory and delivering gentle, delicate care. She understands that nobody likes discomfort while at the dentist, so she aims to reduce it as best she can.
Michele enjoys playing sports, spending time with her dog and family, and reading.
Michael Rosati B.S (Biological Science)
Michael has been with DeWitt Dentistry for over six years. He graduated from Elmhurst College with a degree in biological science, as well as a membership in Tribeta, the national honor society for biologists.
While at the office, Michael is knowledgeable in a wide variety of areas ranging from assisting Dr. DeWitt in the operatory to repairing the dental equipment. He is skilled at taking and analyzing digital x-rays, creating stone models of bite impressions, and proper sterilization of the instruments. He acts as the IT department for DeWitt Dentistry as well, managing the official website and resolving any computer issues that may arise. You can count on that if something breaks, Michael will be called to make it work again.
When not at the office, Michael enjoys playing basketball at the local gym and kayaking.
Monika Skarzinskaite (Certified Dental Assistant)
Since Monika joined DeWitt Dentistry she has proven to be nothing but a marvelous addition. She attained her strong knowledge of the Dental Field at the Certified Dental Assistant program at Everest College. Her education, hard working attitude, and professional demeanor have yielded exceptional contributions to the practice.
Monika prides herself in her ability to relate to patients on both a professional and personal level in order to make them feel welcomed and comfortable in their time spent at Dewitt Dentistry. Her experience and knowledge is only growing with each day in the field in which she has been practicing for over three years now.
She is also valued at DeWitt Dentistry for being bilingual; having the ability to speak both English and Lithuanian.
In her free time, Monika enjoys skiing, visiting with family, and traveling.
Bobby Ryan
Bobby has been at DeWitt Dentistry for over two years now and is a vital part of the team. Over the course of those, he has taken on more crucial responsibilities such as scheduling, resolving insurance issues, and heading the front desk. More often that not, when you enter DeWitt Dentistry, you will be greeted with Bobby's smiling face, for he most enjoys interacting with patients to make them feel welcomed in the practice. One reason DeWitt Dentistry operates so efficiently is because of the competent and reliable abilities Bobby brings to the table.
Currently, Bobby is studying Business Marketing at Elmhurst College in hopes to add his marketing skills to the practice.
In his free time, Bobby enjoys playing with his dog and attending sporting events. He also routinely exercises and rides his bicycle.
Alexandra Rosati
Alexandra is currently interning at DeWitt Dentistry while attending the University of Missouri. She is enrolled in the Sinclair School of Nursing and taking classes to ultimately achieve her Bachelor of Science. Learning the ins and outs of patient care and bedside manor at DeWitt Dentistry has been invaluable in furthering her experience toward her goal of becoming a Registered Nurse.
In her free time, Alexandra enjoys reading novels and watching Netflix. She also enjoys an occasional sushi outing with her family and friends.