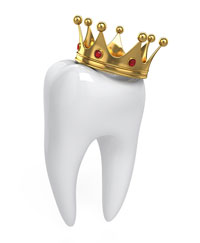 If you feel self-conscious about chipped, broken, or decaying teeth, there may be a solution to restore your smile. Dental crowns and bridges are a natural-looking option to rebuild your existing teeth to their original function and beauty.
The Process of Getting a Crown
1. Once you and your Elmhurst dentist William E. DeWitt, DDS, FAGD, decide that a crown is the right solution for your smile, your visit will begin with your dentist applying a local anesthetic to help you be more comfortable. Then, your dentist will shape your existing tooth so that it will hold the new crown.
2. After the tooth is ready for the crown, your dentist takes an impression of the tooth so that a crown can be fabricated from either porcelain and/or metal. This impression is sent to a laboratory where the crown is made.
3. Once the crown is finished, your Elmhurst dentist will bond or cement the new crown to your existing tooth. Your new crown will look and function just as a healthy, natural tooth.
The Benefits
Improved appearance
Restored function
Improved bite
Improved confidence
Who is a Candidate for Dental Crowns?
While crowns are a great solution for many people, not everyone is a candidate for a dental crown. First, you will need enough healthy tooth to support the new crown. If you do not have enough healthy tooth to work with, you may need to have that tooth extracted. In that case, talk to Dr. DeWitt about dental implants, which are a full replacement for a missing tooth which then supports the dental crown.
When considering dental crowns, it's important to work with a dentist who is skilled in the art of crowns and bridges. DeWitt Dentistry of Elmhurst, IL offers dental crowns and implants to restore your smile to its natural function and beauty. Schedule an appointment today to give your confidence a boost with a healthy, white smile.